Real Wife Stories presents: Three Horny housewives playing the musical chair for some fresh new cocks to fuck
Scene Title: Musical Chair Swap
Storyline: August has got a surprise for her husband Mikey and their friends. During a routine get together, she plans a game of musical chairs where you get to fuck the guy who's picture's on the chair you land on. Of course this means wife swapping at its best!!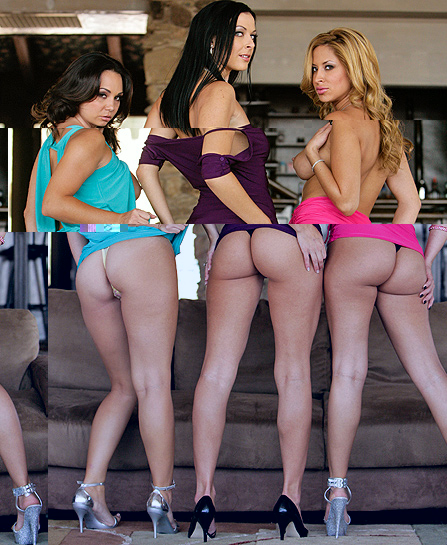 Real Wife Stories Violet Marcell, Holly West and August HD Video Trailer
What people are saying about: Violet Marcell, Holly West and August - Musical Chair Swap realwifestories episode
Comment #1
jonshifrin said: that chick in the purple was the hottest by far. bring us more of her, whoever she is.
Comment #2
BiV_aka_funkdoc said: I must be a fan of orgy scenes without realization cuz this was, again, hot as hell. The idea was okay, but it was directed well because all 3 couples were in view for most of the time. Another great direction aspect was having every couple do a different act when they all 1st started; cunt licking, dick sucking and fucking all commencing asap = great scene. August has been underrated for years - she always has played second fiddle and I don't understand why, cuz there is nothing even remotely negative about her, never has been. Glad to see Holly back here,she DEF needs more action on ZZ. I like this Marcell chick..something about a skinny broad with a crooked nose. But wtf...I know Jordan is tall and Butders is short, and they're both great performers. Seriously, how big is that height difference?
Comment #3
katie11 said: all three girls were hot especially august and violet. holly it's nice to see you back in action but your facial was definitely the weakest of the bunch. after a few more facials you will learn to becum more comofrtable with them and learn to provide some nice post facial cleanup. august fucked like a veteran but damn violet girl you were looking hot. i love the orgy scenes and it's nice how they had the couples fucking next to each other so you could see them all fucking together. the only thing keeping these scenes from being off the charts is that the girls don't get to switch partners nor share facials. once brazzers pieces this all togetehr you will have an award winning scene. loved the setup and filming and this was a super hot scene!!!!
Comment #4
datsmn2 said: hot girls, especially violet.... but I got to say with these large orgy scenes are frustrating. Once you get into one girl getting going good it switchs to another and its just a turn off... but I know some people love it, so I'll live with it so long as I keep getting plenty of solid one on one scenes.
Comment #5
sexydaddy71 said: please bring august back. she's so freakin' hot. i love seeing her get her pussy eaten. next time show her getting her toes sucked, i'll blow a wad quick.
RealWifeStories Violet Marcell, Holly West and August Picture Gallery