Real Wife Stories presents: Britney Brooks fucking a sleep walking cock
Scene Title: Sleep Fucker
Storyline: Britney is having guests over for the weekend and her husband refuses to have sex with her while they are in the house! One of the guests, Kevin James, has a sleepwalking problem and strolls into the kitchen half awake. Britney being horny as hell takes advantage of the situation and starts to suck on his cock! He wakes up and discovers his cock deep in her throat, he knows he shouldn't fuck a married woman but how the hell could he ever refuse such an opportunity?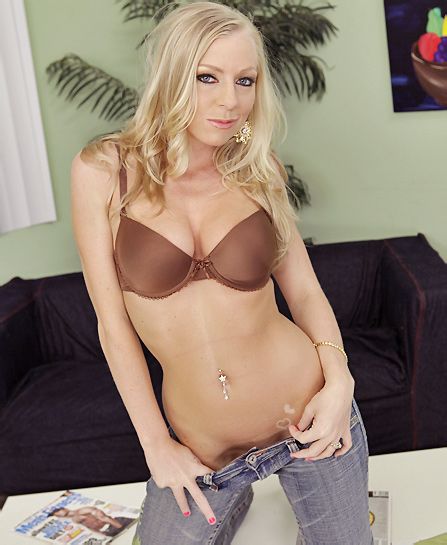 Real Wife Stories Britney Brooks HD Video Trailer
What people are saying about: Britney Brooks - Sleep Fucker realwifestories episode
Comment #1
LBoogie said: 7 out of 10! This scene could have been a lot better, if the male counter-part would have left her assets alone, for the viewer to watch, she's a real perky girl, and has a nice bounce to her T & A, this dude continued to grab and hold them, so it just all went down hill!
Comment #2
pjc72 said: The dude is Kevin Doyle. He's listed as Kevin James in La Direct Models which is a big mistake because doing so will get him confused with the Kevin James of porn from the 1980's. I think he will have a good porn career if he wants it. Also, alot of gay guys like the straight porn because the men are hotter in a more natural way than gay porn clones. You also get the sense that the hetero guys are more into their scenes than the gay guys. As a matter of fact, there is a company that produces straight porn for gay men. Jake Cruise Straight Guys for Gay Eyes.com. The focus of the camera is on the guy, not the girl.
Comment #3
JJamNeutron said: I think for a bunch of alleged heterosexuals you guys are bitching far too much about the dude, the dude's physique, & the dude's dick in the scene. At least the gay guy has an excuse. Reminds me of Ron White's joke about his Cousin Ray. Where he tells him we're all gay & then gets his cousin to admit that he likes "big, hard, throbbing cocks," only he catches himself as he gets to the 'cock' part but with a stunning realization on his face. Chill out & stop the gay bashing. We're here to watch porn & if the guy is flaccid just laugh & watch a different scene.
Comment #4
badboy316 said: was a great real wife stories scene nice story line but it woyld have been hotter if they would have gotten caught or atleast fuck close to the hubby bedroom come on at first i thought good story line but just as soon as he starts sleep walking boom she there hell she could have atleast walk up on him not been waiting for him as i said great scene but could have been hotter i love the site but i think ya need to explorer new thing almost the same ole same ole all im asking for is please try and do something diff hell bring back krissy lynn or something
Comment #5
jbpetes2 said: girls hot, wearin a hot top, too bad this new guys got a small dick
RealWifeStories Britney Brooks Picture Gallery