Real Wife Stories presents: Two busty wives trading spouses and big cocks
Scene Title: Mixing Work with Pleasure
Storyline: Kerian and his wife are attending his bosses party. The bosses wife notices Keiran right away when he arrives and convinces her husband to try out an exchange. At first he feels a little skeptic to mix work with pleasure but who could refuse such a great offer.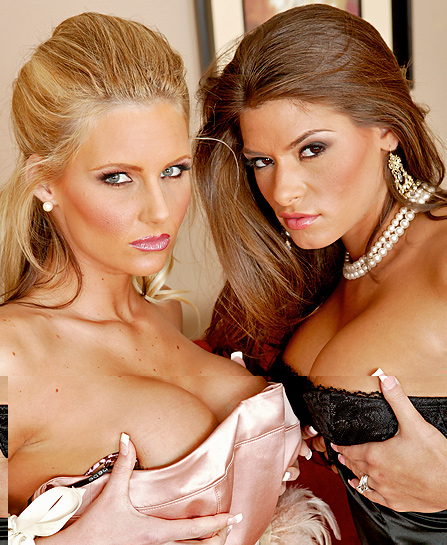 Real Wife Stories Phoenix Marie and Madelyn Marie HD Video Trailer
What people are saying about: Phoenix Marie and Madelyn Marie - Mixing Work with Pleasure realwifestories episode
Comment #1
option3johnny said: the way she spread her legs and blew the guy on the couch!!!! Now admitedly I'm a panty fetishist so seeing her legs spread from a rear vantage point was amazing, but I still think this is one of the best scenes I've seen on your site to date. Storyline wasn't bad either
Comment #2
Xailuvu3 said: The back-story was great too. Girls, your acting was phenomenal! Great job Alec and Kieran too. I'm guessing this was a relatively high budget production, shit was completely on point from the camerawork to the appropriately large final cumshots.
Comment #3
byeezy1 said: Great fucking scene. One of the best I've seen in a long time. Phoenix Marie is one sexy bitch. Bust a major load on this one. Keep 'em cumming
Comment #4
dieavirgin said: I like how one person(Phoenix) is unaware that she's not being as sneaky as she thinks she is. It added that extra bit of eroticism to the story. I kept waiting for her to turn around and see Keiran fucking Madelyn. Loved watching the 2 different styles of girls. Madelyn seem to have more of oral fixation but Phoenix was doing magic tricks with Alec's cock. As for the sex Phoenix was her usual 0-60(always good) while Madelyn and Keiran had to deal with some slightly awkward hallway positioning. They still managed to keep my attention with some decent intensity. Add in some dual face flooding and a goofy-ass story ending. And you've got a damn good way to start a week off.
Comment #5
MissSnoogans said: Not to call anyone out but I sent this type of style in for an idea. I was told it would never work cause members would complain about how the action was shot. Don't under estimate the powers of Brett Brando. He shot this scene as perfect as could be. The couples didn't have to stay separated as far as I'm concerned. That would have allowed Madelyn to display more of her skills rather than sucking cock. Phoenix was all over it though. I loved hearing her trying to break that fucking couch. Snoogans!
RealWifeStories Phoenix Marie and Madelyn Marie Picture Gallery