Real Wife Stories presents: Lisa Ann husband cant satisfy her so she gets fucked by his friend instead
Scene Title: Pound Me Better Honey!!!
Storyline: Lisa Ann is not satisfied sexually by her husbandís ever decreasing performance. So he did what he thought could save his marriage: he asked his friend Mickey to come fuck his wife. At the same time, he could watch how to fuck his slutty wife properly.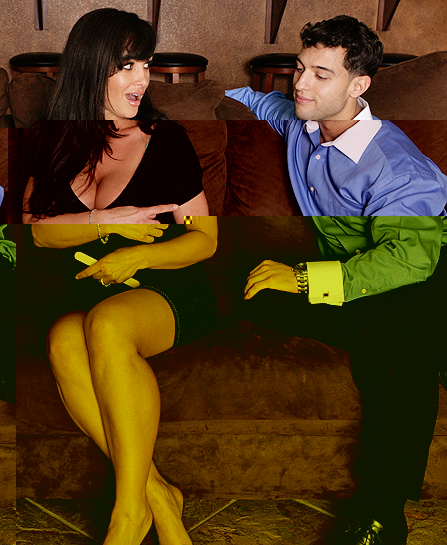 Real Wife Stories Lisa Ann HD Video Trailer
What people are saying about: Lisa Ann - Pound Me Better Honey!!! realwifestories episode
Comment #1
28deb said: More Lisa Ann , Shyla, Rachel Starr...Most of all Lisa. they know how to ride cock. They use their hips and fuck and strokee that shit the way motherfuckers like myself love. None of that 10th grade, cheerleader bouncing shit. That was good when I was in 10th grade. I like that well seasoned pussy and women who can work it!!!!! Get more Lisa on here or I've got to leave this site.
Comment #2
muska692 said: I think Brazzers should do a scene that mimics an episode of ESPN's Around The Horn. Mikey Butders could play the role of the host because he looks a lot like Tony Reali. Maybe they can have guests that debate who's the hottest female star, and who ever wins gets to fuck her. Or, it could be apanel of female guests who debate and get to fuck the "Tony Reali" character during their "face time". Make it happen!!!!
Comment #3
rolltide321 said: Good real wife stories Scene but it could have been better if the brother was fucking Lisa Ann. Everybody knows that he would have fucked her better. I believe that you need to use more minority talent. Another hilarious idea: Mickey as Tony Stewart in a Nascar scene on one of the sites. Lisa Ann is one hot mature women that I would do anything that she asked me to do.
Comment #4
funkdoc said: "I don't satisfy my wife, so instead of looking for some help or counseling, I'll call my best friend, so he can come over and fuck her. Maybe I'll learn something that way". Fucking stupid. Plus I totally agree with james01831's comment, lol. All that aside, it's Lisa Ann in action. She's always a joy to watch. The split-screen in the beginning with Mikey getting some brain was a good touch. Glad her ass got more cameratime than it usually does cuz it's soo underrated. The one thing that she does that I don't like is how during doggy she straightens one leg, so we don't get the ass-waving we get when 2 legs are closer together. She finally took her hands off her ass during cowgirl. What's Mikey's deal, does he do porn part-time or something?? You need to book him more often.
Comment #5
MissSnoogans! said: Happy happy joy joy when I see Mikey return. This site is gonna be cold blooded. Hubby comes home from work and hears that he doesn't satisfy his wifey. That first shot of Lisa Ann blowing Mikey bent over with that ass in the air. Great viewing pleasure fo sho. I loving my favorite porn scarlet fuck guys that I like watching in action. The hubby should have been holding a fire extinguisher cause they were on fire. Hot sex and great cumshot. 2 ice cold erect nips, Snoogans!
RealWifeStories Lisa Ann Picture Gallery