Real Wife Stories presents: Audrey and Savannah trade spouses for a good fucking
Scene Title: Recipe for Sex
Storyline: Audrey Bitoni and Savannah Stern have agreed with their husbands to have a wife swap. The deal was that the husbands would swap wives for the evening, and get to fuck them after their dinner party. The girls couldn't wait to get fucked, so they decided to start with dessert and get pounded hard at the table before even starting dinner.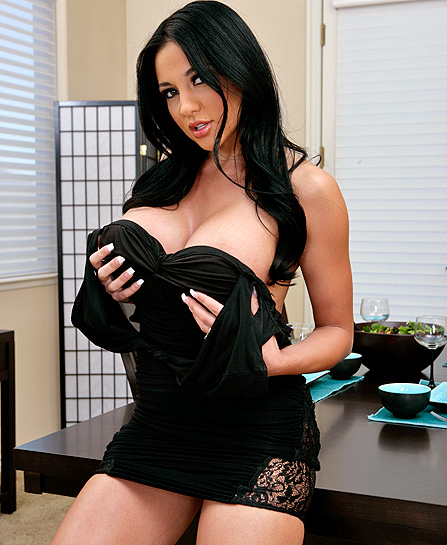 Real Wife Stories Audrey Bitoni and Savannah Stern HD Video Trailer
What people are saying about: Audrey Bitoni and Savannah Stern - Recipe for Sex realwifestories episode
Comment #1
robertomalone said: Speechless! Just speechless! Watch these two heavenly babes riding these boys like cowgirls on wild stallions and be transported to a better place. Which babe is hornier, Audrey or Savannah? Damned if I can choose! Luckily, i do not have to. A totally awesome experience!!!
Comment #2
silversink31 said: Dear Brazzers, If I had 1 last wish before I die I d wish for a scene with Audrey & Jayden & both getting butt fucked together stacked after taking shower together gosh thats the ultimate fantasy
Comment #3
tom80101 said: We are all so lucky that audrey is in the biz. look at her shes amazing in every way. Most girls are used and washed up looking. audrey is nothing that we have seen before!
Comment #4
morningtug said: Ya know... Audrey Bitoni is one of the hottest babes walking this planet, but her scenes are all too contrived. She's working too hard at them and needs to just relax, ease into it, be herself and get with the true essence of Gonzo Porn!
Comment #5
robb201 said: I'm not a big fan of either of these two girls, however they tend to make decent scenes. Savannah was good in this scene, Audrey seemed out of place. Her and Keiran kissing while walking out of the room looked like their heads were stuck together, wasn't feeling her as a "wife". Her tits are seriously fucked up too, it's unbearable to watch her anymore. I found myself looking at Savannah the whole real wife stories scene because I just wasn't feeling her Scarred look. Ramon annoys me because you can barely understand what the hell he's saying most of the time. Keiran was alright. The sex could have been rougher. I applaud Ramon for trying to make Audrey squirt, she rejected it the first time, which was a turn off. Overall, average scene. 6/10.
RealWifeStories Audrey Bitoni and Savannah Stern Picture Gallery