Real Wife Stories presents: Lesley Zen wants payback for her cheating husband
Scene Title: Not my panties!!
Storyline: Lezley and her husband are preparing for a party. Some friends of the husband show up early to help out with the decorations. They realize that they forgot to buy a cake. A party without cake is ridiculous. Jordan and Lezley go to get the cake before everyone arrives. Weirdly enough, Lezley finds panties that arenít hers in the car and believes her husband is cheating on her. To get back at her husband real good she fucks Jordan all over her husbandís precious mustang.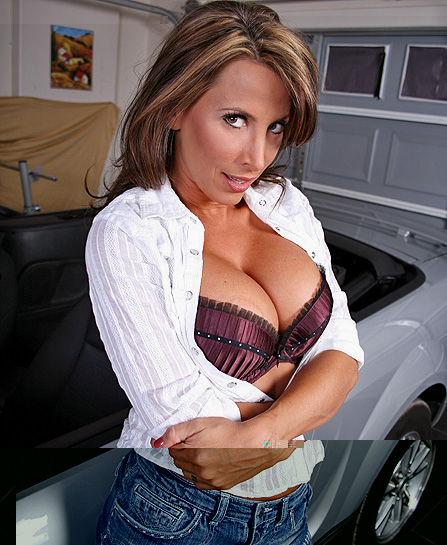 Real Wife Stories Lezley Zen HD Video Trailer
What people are saying about: Lezley Zen - Not my panties!! realwifestories episode
Comment #1
rodhot747 said: This high priestess of pleasure brings me back for more. Man, she is tight, and those underwear tan lines turn me on. I'd love to pound her for as long as I could stand it. After dipping my wick into that slick pink hole, I'd pop my wad on that taut tanned belly of hers.
Comment #2
Ricman45 said: Hard to say, literally, what Ms. Zen does better - ride dick or suck dick. She's a total pro at both and one of the all-time greats in babe porn history.
Comment #3
Defcon6 said: Lezley combines exceptional beauty, sexual expertise, erect nipples, and a genuine appitite for sex. She is a treat to watch and is destined to success. Let's see more of this star.
Comment #4
barbs337 said: i'm sorry but i think LZ is waaay hotter now, and yes i agree with you angelus, these chicks need to stay away from the big contract deals with vivid. DP and the like...that shit is not porn, its love making to phil collins playing in the background...i am however glad that Devon (my fave pornstar) is slowly making her way over to the dark side..MUAH HAHAHAHA
Comment #5
Angelus4376 said: I like Lezley Zen as much as the next guy but I think I'll always hold a grudge of sorts against her for waiting nearly six years to come down off of her "I do mainly features" high horse. If I was a director, I'm angry enough at her for that that I wouldn't hire her just on principle. But oddly enough, I'm also a fan. However, it's going to take a whole hell of a lot to make me forgive her for all those years I had to suffer through Adam & Eve, Digital Playground, Vivid, Wicked, JKP movies and the like just to see her scenes. And I'm not saying she's not still slammin' but it would've been nice for her to have done this back when she was SUPER smokin' like she was back in those days. Let the career of Lezley Zen be a lesson and cautionary tale to all those at-best peripheral so-called "players" in the business who think they're too good to do gonzo. Eventually, you ALL fall. Even Devon has been shot for REAL WIFE STORIES and she was a way bigger star than Lezley Zen EVER was or ever will be.
RealWifeStories Lezley Zen Picture Gallery