Real Wife Stories presents: Jada and Ricki swapping husbands for bigger better cocks
Scene Title: Ebony & Ivory, fucking in perfect harmony
Storyline: Jada promised her friend Ricki she would let her try her husband Julius' fat black cock. When Jada and Julius are about to leave for Ricki's place, Jada makes a confession: she never tried white cock meat! Tommy Gunn, Ricki's hubby, will give her the taste of ivory she never had!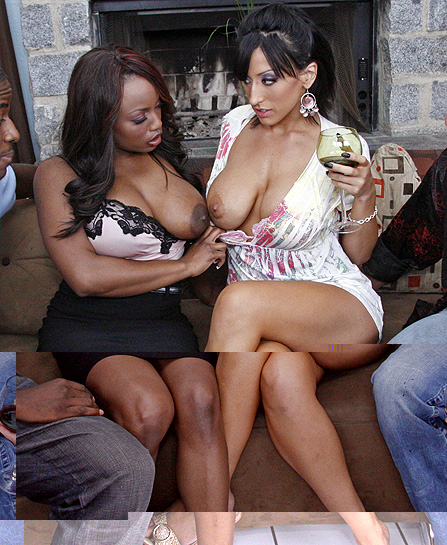 Real Wife Stories Ricki White and Jada Fire HD Video Trailer
What people are saying about: Ricki White and Jada Fire - Ebony & Ivory, fucking in perfect harmony realwifestories episode
Comment #1
dually said: rikkis boobs are testimonial to have an accreditted plastic surgeon do your work, not a veterinarian!
Comment #2
timbotree1 said: first comment on this site. if ricki white says "oh shitfuck, fuck shit oh shit" in one more scene...shitfuck shitfuck oh shit, oh fuck shitfuck, i cant take it anymore. but she is super shitfuckin hot.
Comment #3
TheeTommyGunn said: Greetings Brazzers fans, i just wanted to throw my 2 cents in and say that this was very fun day and pair up...Miss Jada Fire and Ricki White are true professionals and always brig it to the table .....YOU GIRLS ROCK!!.........cheers!!
Comment #4
bayluv said: Ricki White fucks better than any girl Ive seen.She is a cock killer. Her tits r little fucked up though. She owned this seen.
Comment #5
YaMeansSon said: Good real wife stories Scene not Jada's most impressive performance but if she hadnt set the bar for herself so high it wouldnt be as bad... She gave an Audrey Bitoni performance but she usually gives great scenes. Ricki was good but needed more foreplay 8/10 but had to go 10/10 so we can get more scenes like this because of all the 1 ratings...
RealWifeStories Ricki White and Jada Fire Picture Gallery