Real Wife Stories presents: Miss James doesnt get any action from her hubby so she fucks elsewhere
Scene Title: Spying on Wife
Storyline: When Jayden Jaymes' husband goes to work, she invites her lover Cheyne over. As they get it on, the husband comes back after having forgotten something. He catches them in the act but surprisingly doesn't react; on the contrary he stays and watches the action as it unfolds. He gets turned on watching his wife being fucked behind his back by another man.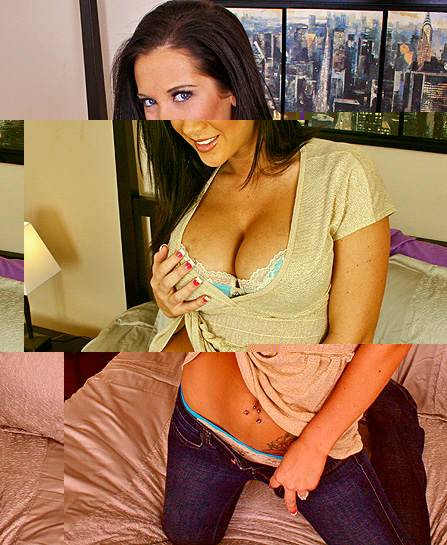 Real Wife Stories Jayden Jaymes HD Video Trailer
What people are saying about: Jayden Jaymes - Spying on Wife realwifestories episode
Comment #1
robb201 said: This real wife stories scene was alright. Jayden is hot. I'd like to see her in a scene with Alanna Ackerman. Cheyne did alright. I think the husband should be in the room when the sex is taking place. I think Jayden would be better used for other sites, kinda seemed out of place for this type of site. Sex was average, watching her get dressed was nice, the booty shake was decent. 7/10.
Comment #2
obo88 said: Jayden James is awesome.What a perfect Woman.Like someone else said before,She is the next Rachel Starr with that fantastic ass shake!--I would love to see Her in more scenes with a better partner like Johnny Sinns or Jordan or,If she likes the older Guys,even Alec Knight.But Cheyne Collins doesn't do Her justice.Just My opinion.
Comment #3
Tikigod2 said: She's got the perfect amount of ass shake when she's on top. Just enough of everything without looking fake or overdone. Naturally pretty. I could do without the silly tattoo - but any man would be a fool to complain about something like that. I can see why this gal is so popular on this site.
Comment #4
SoldierUp said: Jayden is fuckin' amazing. She's definitely one of my top three. Pay her whatever she wants... she worth it... whatever it takes to make her stay.
Comment #5
funkdoc said: Jayden is one of the maybe 3 girls that are too good-looking for porn, but we're all lucky this is the path they chose. I actually thought she had on too much makeup here. Story was okay, but was there something wrong with the sound on the video? When she was on the balcony and he was outside it was dead-silent, but it looked like they were speaking, idk. Still not understanding the stories for RWS; how can a husband come home and not be livid when he sees someone else is fucking his wife? Don't get it it. THe sex was really fucking hot though. There is something really about Jayden's smile and body language, not to mention that body is one of the best anywhere. I will say that the camerwork was shoddy - moved around too much, bad angles, and there was not enough of Jayden's ass waving in the doggy while on the bed. But I will say both cowgirls were done well. I never had a problem with Cheynne, I don't know why everyone else does. And when someone as sexy as Jayden is performing, I really don't notice who she's fucking.
RealWifeStories Jayden Jaymes Picture Gallery