Real Wife Stories presents: Big Titted Wife getting slammed by a good samaritan
Scene Title: Lucky Samaritan
Storyline: Hailey and her husbandís car breaks down on the highway. Luckily for them, Tony DiSergio happens to be riding his brand new ride and offers his help. Hailey has to go with him to get some help while the husband waits. She gets turned on while riding on Tony's nice car and ends up wanting to fuck him in his nearby house.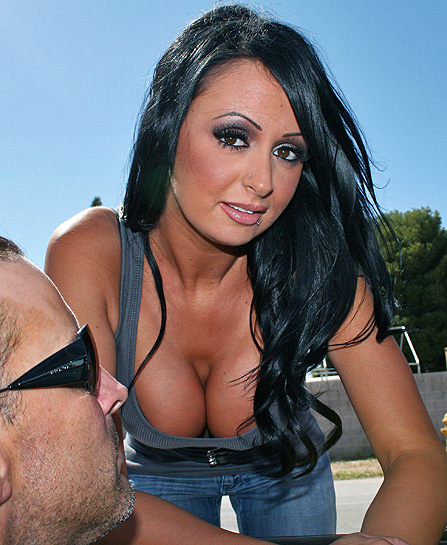 Real Wife Stories Hailey Star HD Video Trailer
What people are saying about: Hailey Star - Lucky Samaritan realwifestories episode
Comment #1
dondestas said: I agree again her scenes at set apart because of the sexy blowjob with jeans the black bra and fucking her with the thong on for awhile. Bring her back
Comment #2
york80 said: This may not get the attention that the other scenes for this new site will get, but you need to watch this scene. To quote funkdoc, Hailey Star is off the yelzebar! She is fucking sexy as shit and is into the scene the whole time. And despite the pic above, you only see Dera peeking in for about 10 seconds, then the last half of the scene is just some good fucking. Bring on plenty more Hailey Star scenes, Please!
Comment #3
cockslap1 said: would love to spit, spunk and slap my cock on those lovely fake tits, then lick up the cum and spit it down her throat, propah dirty style, then do it all over again
Comment #4
MissSnoogans! said: Not a bad idea like the arguing to start. It would have been awesome if Charles would have smashed Tony's car. I would have liked it better if she rewarded him before the car is fixed instead of adultery. Hailey Star looks like she might be a force to be reckon with. She was all into this real wife stories scene. Hence the heavy breathing waiting on the facial. I've read some bad comments on NA about Tony. My only complaint would be that he looks like the attention grabber...umm...like scene stealer. On the levels of Charleston Heston, William Shatner, and Christopher Walken. Cumshot was pretty weak but 2 erect nips, it's 4:20 somewhere Snoogans!
Comment #5
funkdoc said: You aint kidding york, this girl is definitely off the meat rack. Great setup, perfectly done by all parties. Great to see a girl wearing jeans, I like that you guys seem to be doing that more with the females. Dera & Hailey really seemed like they disliked each other. Funny shit when he said "take her" and made a chiking motion with his hands. Watching her blow him wearing the jeans & bra is one of the sexiest things I've seen in a long time. She fucked good ans was really vocal - hot shit in addition to her being hot (little too much makeup tho). I wasn't sure about this Tony cat at first, but he fucked her solid and made her look like a mess at the end. Good shit. Get her back soon.
RealWifeStories Hailey Star Picture Gallery