Real Wife Stories presents: Housewives swapping husbands for better cocks
Scene Title: I Need One Last Taste
Storyline: Jayden breaks the news to her close girlfriend that her and the hubby are moving!Jenaveve is devastated that Jayden is leaving. Caught up in the emotion the two get hot and heavy in the kitchen for the last time!!After their pussy licking session they decide to invite their husbands in on the fun and it was just an orgy of hot,steamy sex!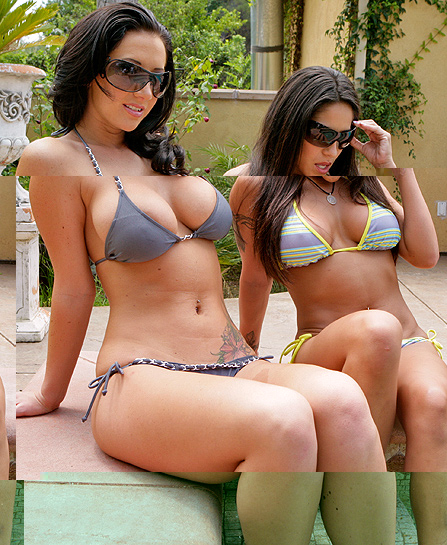 Real Wife Stories Jenaveve Jolie and Jayden Jaymes HD Video Trailer
What people are saying about: Jenaveve Jolie and Jayden Jaymes - I Need One Last Taste realwifestories episode
Comment #1
Lisa_And_Paul said: Two couples intertwining is one of our constant fantasies, and this one delivered. We love the idea of a four-way climax, and the fantasy that even after one guy shoots his load on the ladies, the other one continues to fuck her until he unleashes his own. Highlights at the end: *39:40: The first cumshot across both Jayden and Jenaveve's open tongues *40:00:...followed 20 seconds later by the other guy lifting up Jenaveve who's body is still dripping cum (check out her chin!) and proceeds to slam into her standing up while Jayden breathlessly observes. *40:54: A really impressive final cumshot across our two starlets again, the first load projecting forefully into Jayden but with plenty to follow for Jenaveve to taste. We wish we had them as friends! :)
Comment #2
jenaveve_jolie said: hello sexy people..we had a hot and great time. and I wanna say thank you for all you positive comments you make me wanna do better and better everytime. the nipple rings I loved them but they were never gonna heal unless I took a really long time from work and Thats something I couldn't do. the first 5 scenes I did with them on,it didn't matter how many times I said don't touch or suck the nipple well that the first things they did..naturally so they were on the verge of getting infected so I took them out as quickly as possible to prevent scaring..xoxo jenaveve jolie
Comment #3
geronimo1620004 said: love jenaveve. really love jayden. but i'm tired of billy pullin out every other minute. the dude needs to learn how to hold his load if he's gonna work in porn. everytime the girls start gettin into it he starts to lose it and pulls out. he always takes what could be a great real wife stories scene and fucks it up. i know jayden is hot as hell but damn dude ur suppose to be a pro. girls that close to perfection deserve someone thats gonna be able to lay it to her right.
Comment #4
wykddeep said: Wow Jayden James is the all around hottest pornstar ever! and I just realized it. What a boob-job they look great and that ass....damn! Who cares how tall or short a girl is when she looks like that! She even posts messages on the comment board. I love you Jayden! Ok back more of your videos.
Comment #5
JaydenJaymes said: "is Jayden really tall or Jenaveve really short? Major height difference there." LOL. Seriously!!!! I think Jenaveve is 5' tall... MAYBE 5'2"... and I'm 5'8"! That's a huge difference! I'm a really tall girl, and I get really insecure about my height, especially when they start pairing me with teeny-tiny, short chicks... or worse... short guys!!! Makes me look like Amazon Woman!
RealWifeStories Jenaveve Jolie and Jayden Jaymes Picture Gallery