Real Wife Stories presents: Jenna gets streched by massive meat stick
Scene Title: I am Desirable
Storyline: Jenna's prick husband has no appreciation for her amazing body. One day when they're about to go out, her husband tells her that no man would ever want her. Shocked and furious, Jenna decides to prove him wrong. Her plan entails fucking every guy she can find and making them take a survey to rate their experience. Jenna is determined to prove to her asshole husband that she can get any man she wants.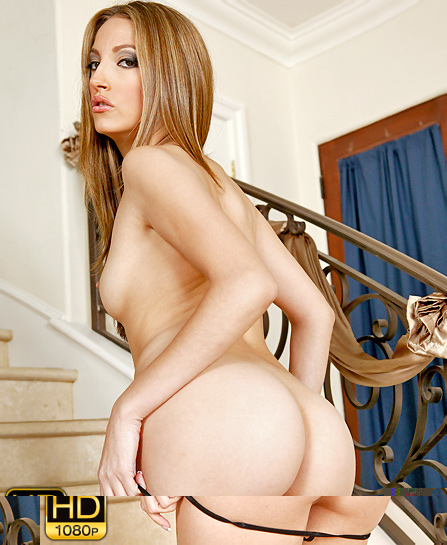 Real Wife Stories Jenna Haze HD Video Trailer
What people are saying about: Jenna Haze - I am Desirable realwifestories episode
Comment #1
MissSnoogans said: Ouch talk about proving a point to your hubby. Considering no mish was involved but plenty of doggy, I like how several different positions were thrown in. A couple cradles and even a reverse cradle were nice to see. The standing sixty-nine was nicely done. She was no joke when it came down to the oral fixation. She even got a dose of the piledriver. I personally witnessed why vets should be way better performers. Jenna took advantage of fucking on the stairs by using the handrails to aide her riding prowess. Then that last taste of doggy where she wanted to fuck him and pulverized his cock. Had Keiran of back off some, she would have been overwhelmed with cum. Snoogans!
Comment #2
96VT98 said: Wow! I've been a Jenna Haze fan since before her JKP days and she always blows me away. Thanks for another great scene Jenna!
Comment #3
JennaCarmella69 said: Jenna Haze is the greatest pornstar working today, and very possibly the Greatest Pornstar Ever. (Only Stacy Valentine presents a challenge for that title.) Thank you for more Jenna, and please bring her back as often as you possibly can. So, so, so HOT!!!
Comment #4
ndbigdave1 said: I wont say she has "no body" she just has that - tight, fit, petite - type of body that also oozes a feeling of being "younger." She is hot and in her own way, in fact, in many ways her petite, nubile and lithe body makes it even hotter when she takes a pounding. I love it! MORE JENNA!
Comment #5
rioman69 said: this girl is living proof that enthusiasm and loving sex makes up for a lot. She really has no body. Very skinny, no boobs and a tiny bubble butt. AND she becomes a huge porno st
RealWifeStories Jenna Haze Picture Gallery