Real Wife Stories presents: Jessica and Presley spicing up their sex lives in a menage a trois
Scene Title: Horny For The Help
Storyline: Pressley has a dilemma. She likes her new job but has become uncomfortable with Jessica's sexual advances. In attempts to smooth things out, Scott proposes that they all have dinner to get to know each other. But Jessica has much more in mind than "getting to know" Pressley...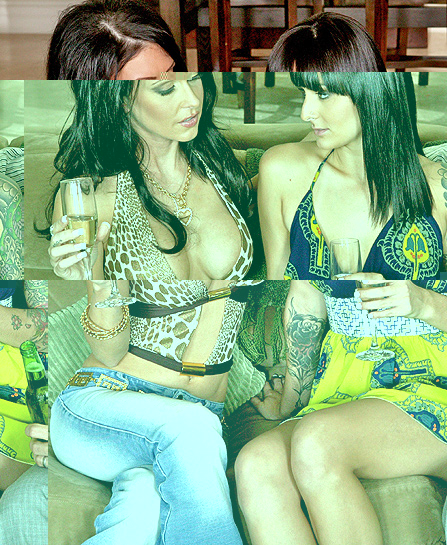 Real Wife Stories Jessica Jaymes and Pressley Maddox HD Video Trailer
What people are saying about: Jessica Jaymes and Pressley Maddox - Horny For The Help realwifestories episode
Comment #1
Jessica Jaymes is a seductress especially with women! For years she only did chicks and I have some really hot hot hot scenes of her a few years back with the hottest in the biz! This scene was sexy as hell. Presley doesn't do anything for me but Jessica made the scene irresistable!
Comment #2
Great scene, and a very welcome return for Pressley, who is just lovely. I know a lot of people don't like her new body art, and I have to admit I'm not the biggest fan of great big tatoos; they used to put me off watching some scenes a bit. But I have to say I am warming to them a little in some cases (or at least, I'm not so turned off by them as I was), and as Pressley says, to each their own, and she is still very sexy. The ZZ scenes are getting more and more slick, and at times it's almost like watching a section of a mainstream film (not that that's automatically a recommendation - many mainstream films are awful), and I like the big screen comedy background music at the beginning. There was a bit of a cock up with the editting when you can hear the director calling orders to Pressley, but generally speaking this was a very professional job. Keep up the great work guys; you're making a difference!
Comment #3
ONE OF THE BEST SCENES EVER!!! jessica is soooo hot! please fast more!
Comment #4
I just can't get enough of how good Jessica looks in that outfit; it's cool that she got naked and went to town, but *DAMN,* why don't all women dress like that? Oh, yeah...most women haven't bought themselves a body like that. Christ, I wish they would, though... =P
Comment #5
Jessica was stunning as ever, but this scene felt a bit off. I know it's a quibble, but the way it accelerated into sex seemed way too fast for the way they were trying to portray Presley's character. Would've strongly benefited from some slower foreplay before ratcheting up the heat. Once it was into full swing it was fine, but the transition was jarring. The canned response will be "It's just porn, get over the story JEEZ." but then why aren't they lobbying to get the setup narratives ejected altogether? Can't have it both ways. :P
RealWifeStories Jessica Jaymes and Pressley Maddox Picture Gallery