Real Wife Stories presents: Julia Ann fucks another big dick instead of her husband
Scene Title: Dick served for Dinner!
Storyline: Julia's husband is a real asshole to her and she is starting to get fed up with his derogatory remarks. Luckily her husband has invited his new head chef over to dinner who treats Julia like a queen. She builds a real appetite for this respectful and kind gentleman. When Ramon excuses himself from the dinner table to use the bathroom, she follows him upstairs to fuck him, leaving her ungrateful and pitiful asshole husband behind.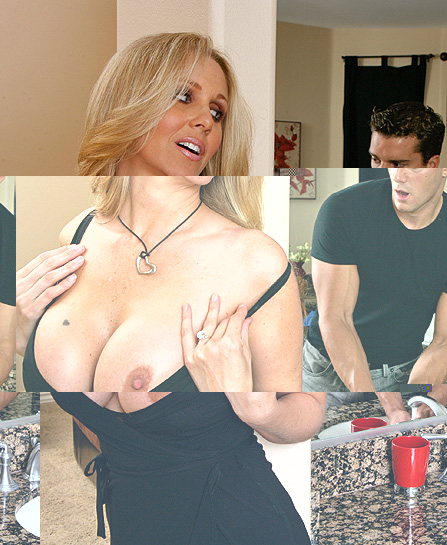 Real Wife Stories Julia Ann HD Video Trailer
What people are saying about: Julia Ann - Dick served for Dinner! realwifestories episode
Comment #1
Vitamin_M said: great finish julia ann - pls give lessons to other braz girls
Comment #2
vickshardon123 said: she didnt even have to suck his dick, thats how hot she is. he got a boner from just thinking about it. she needs to get a scene daily.
Comment #3
aceinthehole69 said: this chick has sexy legs/feet. I would literally kiss her from head to toe
Comment #4
gbp413315 said: Julia Ann is soooo hot! Bring her back again and again!!!! Her beautiful eyes, face, tits, long legs, body, everything about her is just so sexy! She just is so ready for the scenes. Her look in the black dress is grace and sex at the same time. The ending of this scene was great!! Most are so lame. Here Julia Ann really finished Ramon off. Cleaned him up and savored every drop!!!
Comment #5
e2666 said: BEST NATURAL MILF IN THIS WEBSITE, NEED MORE JULIA ANN! TRULY HOT! MORE, MORE , MORE!
RealWifeStories Julia Ann Picture Gallery