Real Wife Stories presents: Cherokee and Lily pick up two big cocks at the club
Scene Title: Great Moments In Hook-up History 4
Storyline: Keiran and Jordan are two diabolical spinsters who are always looking for a way to score on hot chicks. Today they have a plan to go to swingers club and pick up some horny housewives who could give a hit about their husbands. Alone at the bar, no husbands, are Cherokee and Lily. Heads turn when they find out they are married! If the guys can pick up a lesbian couple, this will forever go down in hook-up history! Find out how the story plays out...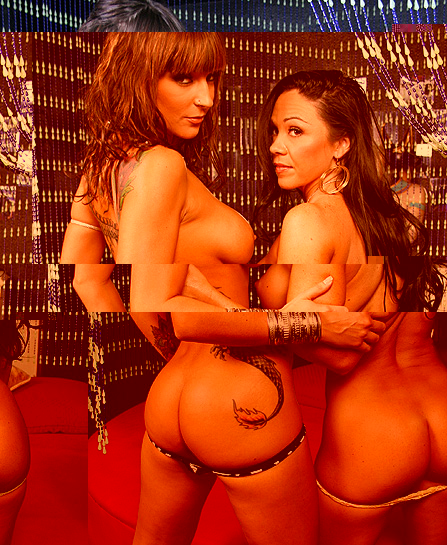 Real Wife Stories Lily Paige and Cherokee HD Video Trailer
What people are saying about: Lily Paige and Cherokee - Great Moments In Hook-up History 4 realwifestories episode
Comment #1
nojive415 said: These are girls are hot,but a proper foursome should involve all parties not 2 couples. Way hotter. 4 people in a row. Use your imagination Brazzers. We do it all the time at swinger parties!
Comment #2
BiV_aka_funkdoc said: Nice to hav a scene appear out of nowhere. Good idea for RWS, since this site seems to have limitations on the scenarios you can do. Wasn't too into this tho because all the positions seemed scripted. I have been getting used to all these girls with the stats, even tho I'm not a fan, and this is my first look at Lily Page. Her ink is by far the worst of anyone I've seen yet. I couldn't even focus on the scene at times because I trying to look at that ridiculous dragon draped around her back. Unreal what some of these girls do to hemselves. However, Cherokee's doggy is not to be fucked with, by far one of the best in the game.
Comment #3
stangodango said: This scene was damn too distracting for me to say it was entertaining. Billy's cock look great and I agree with MaryJane, a mold needs to made of Billy's cock so we can enjoy it at home. Kieran still sounds as gay as ever.
Comment #4
MissSnoogans! said: The hot lesbian action went really too quick. I wasn't expecting it and it went away so damn rapid. Did they make a mold of Billy's cock for that strap-on? Anyway the concept wasn't bad. It didn't really take off like I was wanting. I can't believe Billy got matched up again with Cherokee. This chick is a warrior and needs someone that can pound her good. I like this Lily Paige chick though. I would like to see her again one on one. That doggy from Cherokee was unbelievable. I like where the performers fucked too. Got to see quite abit more action than with the Felony/Nikki Rhodes scene. Snoogans!
Comment #5
the4071 said: This is the best one of have seen in yrs
RealWifeStories Lily Paige and Cherokee Picture Gallery