Real Wife Stories presents: Madelyn gets sprayed with cock milk from the milk man
Scene Title: Milkman does the pussy good!
Storyline: Mrs.Marie is yet another unsatisfied suburban housewife. Married to a man who seems to love his job more than her!Her husband leaves for the day and moments later the ever so nice milkman arrives to deliver the milk. Mrs.Marie has an attraction for him and decides to seduce him. She starts to strip off her clothes and he is stunned!Then she poured the milk all over her body, the milkman couldn't resist licking every last drop off her body!The milkman definitely did her pussy good as she couldn't stop cumming!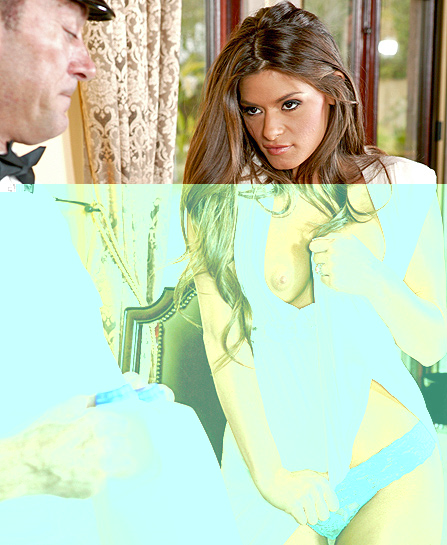 Real Wife Stories Madelyn Marie HD Video Trailer
What people are saying about: Madelyn Marie - Milkman does the pussy good! realwifestories episode
Comment #1
Schogro01 said: Wooohhh..she`s the most beautiful women ever seen...her eyes, her tits, the beautiful ass...i dream about her, when I watch her at brazzers my cock will.........ex......lol
Comment #2
spock80 said: good video love her tittys still not enought light on all her scene please fix!!!!!!!!!
Comment #3
rayjay33 said: My comments are not really about this video, its the site as a whole, which is damn good, the only thing that really missing is you don't have any lesbian one on one content, which is a favorite of mine, add some of that and you may really best site in porn.
Comment #4
SuckMine2009 said: Those gorgeous, pointed tittys! Mr. Milkman did no justice to her! Let me suck on her nipples, make her pussy dripping wet. She'd like my pussy more than his cock after I get done with her!
Comment #5
BigLRock said: Her striptease got my attention, not really a fan of hers, but she looked good in this one, and the things she said, with that sexy voice, "so much better than the mailman", and "got to go freshing up pool man coming", made this real wife stories scene work, I give this one a 8 out of 10.
RealWifeStories Madelyn Marie Picture Gallery