Real Wife Stories presents: Mason Moore gets two cocks at once to play
Scene Title: So I Married A Biker Bitch
Storyline: Jordan's college biker buddy Scott has been staying at his house for the past two months. Mason, Jordan's wife, digging his biker style, decides to take a ride with him on his motorcycle. Did we say motorcycle?? We meant his huge cock!! When Jordan comes home she'll have to deal with two monster cocks! Dirty slut housewife!!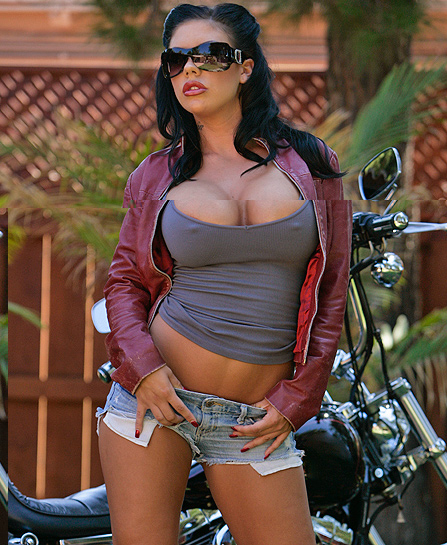 Real Wife Stories Mason Moore HD Video Trailer
What people are saying about: Mason Moore - So I Married A Biker Bitch realwifestories episode
Comment #1
fcortes25 said: She's so fucking hot!!!
Comment #2
funkdoc said: I wasn't feeling this so much. I think it would have worked a lot better with her just fucking Scott. It was kinda stupid how Jordan comes home and instead of flipping out he just whips his cock out. Then when the sex moved inside it seemed like it was a lot of work for Mason, but she did her thing, and Jordan got her to soak his dick which was cool. Just the whole idea of Jordan coming home and joining in cheapened it for me, so it wasn't my thang here.
Comment #3
bigboss1011 said: Wow, she was melting. I like to see her with Ricki Raxxx. Lol, Scotty wasn't riding the bike.
Comment #4
wiseguy said: Ok after finally getting to see this scene I have to say that it was pretty hot! Mason is on of my top 5 favorites to begin with but to see her take on two guys at once is a honor whether she is doing a DP or getting banged and blowing. The positions that ZZ had her do her scene in were pretty good as well, we get a straight on shot of her pussy in a reverse cowgirl, and good shot of her in a spoon position towards the end. I have to agree with MaryJane420 in that it was nice to see her keep a cock in her mouth the same time she is getting pumped. As for the DP scene every one wants to see, that is probably up to Mason, I'm not to sure if she'd be into anything anal since she almost hit the roof when one of the guys popped out of her pussy and as he was trying to get it back inside he almost went back door on her.....was it just me or did Mason suddenly jerk backward to get that missle back in the right door....lol. Overall I give it an A.
Comment #5
MissSnoogans! said: Jordan continues to bring the comedy in his scenes. Scott is hot from dusk til dawn. Since Mason has come on the scene she has been hurtin for a squirtin. Since ZZ doesn't do many b/b/g scenes that aren't DP. Mason by far blew away Cindy Dollar. For the most part she did one helluva job keeping a cock in her mouth. I never even saw a total limp cock either. Now that's what I call multi tasking at its best. Overall good scene from story to camera work. Snoogans!
RealWifeStories Mason Moore Picture Gallery