Real Wife Stories presents: Two naughty hosuewives trading spouses for some fresh new cocks
Scene Title: The Masked Ball
Storyline: Jayden and Memphis are frustrated in the bedroom, they cant get their conservative husband to go do a wife swap. So they put together a masquerade ball and switch masks without their husbands knowing. Their husbands are deceived into getting blowjobs and when the truth is revealed the satisfaction is too great to hold onto their principles.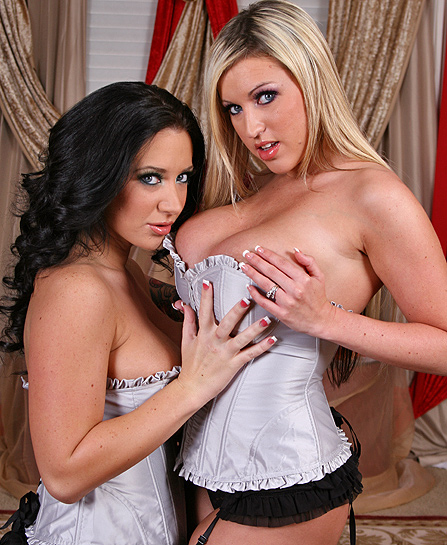 RealWifeStories Memphis Monroe and Jayden Jaymes Picture Gallery
What people are saying about: Memphis Monroe and Jayden Jaymes - The Masked Ball realwifestories episode
Comment #1
huskyz said: im not a lesbian but fuck i love to watch these chicks at it!!
Comment #2
Sean_T said: Jayden and Memphis are my two favorite girls on the web !!!!! WOW
Comment #3
BiV_aka_funkdoc said: At least this wife swap was somewhat interesting. Damn, they looked damn near identical with the wig Memphis had on. I kinda what nestropolis is saying, but I'll give it a pass cuz the incorporation of them being drunk can offset that. What made this scene good imo was having all 4 perfomers in the frame all at once for the majority. In all honesty, it was all about Jayden for me, love watching her ride dick, front or revverse. This was actually pretty good for Glide. Very nice real wife stories scene
Comment #4
JaydenJaymes said: Thanks for the wonderful compliments, everyone! I had so much fun doing this one! Also... my official site is not launched yet, but I have launched a forum and a blog to keep in touch with you, the fans. I plan to be on the forum EVERYDAY, chatting, answering questions, etc., so please sign up (it's FREE) and come chat with me!!!
Comment #5
Mj2dopey3 said: Great job ! Jaden and Memphis what a team of hotties.... Brazzers needs to come up with a scene involving jaden...memphis..rachel starr..tory lane...pheonix marie and alexis texas.. and call it whatever you guys want Bootybowl... im sure anyone here would love to see that..