Real Wife Stories presents: Mya Nichole cheating on her husband with the closet boyfriend
Scene Title: In The Closet
Storyline: Keiran bangs Nichole on a regular basis and never has to worry about getting caught since the husband is always working overtime in the office. Today, however, is one of those days in which the husband decides to come home early. Keiran has to spend the entire night in the closet until Nichole's husband goes to work in the morning. To compensate for his madness, he rocks Nichole's pussy until he pops his load all around her face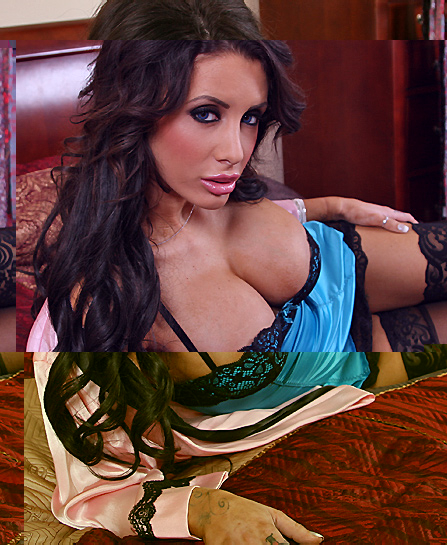 Real Wife Stories Mya Nichole HD Video Trailer
What people are saying about: Mya Nichole - In The Closet realwifestories episode
Comment #1
preston said: Finally a real porn star that can communicate with filthy words instead of having the guy try to intrupet different typtes of moans etc. for her acceptance and degree of enjoyment of the things being done.Other than way overboard on TaT's,needs to have her boobs redone she's got the killer body that girls wished they had ,strive for,and are totaly jeaulos of those that do.Mya; keep talking shit,figuring out new ways to combine rough sex in your in your scenes without some fag producer editting language and content for Softcore money.Soft makes you Softer.-Bethel Island Riley.
Comment #2
BiV_aka_funkdoc said: I never watched this girl cuz all her scenes are from BBLIB which isn't my thing. So this is my first real look at her. She scares the bejesus outta me! I'm usually all for girls going all plastic, but for her it's not a good look with the face, ink and especially the lips. Lol @ Kingsleymc, I see what he means. On the positive, I did like how Keiran plugged her for a hot sec then they went into the brain session. KL knows what's up. Different girls and scenes callo for different types of fucking and he knows the deal. Keep it up son.
Comment #3
jim030185 said: fucking awesome, mya is so sexy and thats the best deepthroat ive ever seen!!! real sexy real wife stories scene
Comment #4
Helios909 said: Don't mind the haters on this site. They'll never be satisfied with anything. I think this is a 10/10 scene... the girl loves to be choked, slammed, and made to feel dirty as fuck. Keep up the fantastic work! The guy really knows how to fuck too... nice!
Comment #5
cervantes2 said: i agree whats up with choking but more whats up with using this little english dweeb in every other scene, its hard to believe he is the best talent you can find,enough to make you cancel your membership, i would love to run into him somewhere choke the shit out of him and spit on his nasty face
RealWifeStories Mya Nichole Picture Gallery