Real Wife Stories presents: Priya Rai fucking a cock that does not belong to her husband
Scene Title: Hoe's Before Bro's
Storyline: Priya is annoyed of constantly begging her boyfriend for some action and continuously being rejected for his friends. When she explains her situation to her boyfriends friend Johnny he thinks that his friend is a complete idiot for rejecting her and gives her exactly what she needs.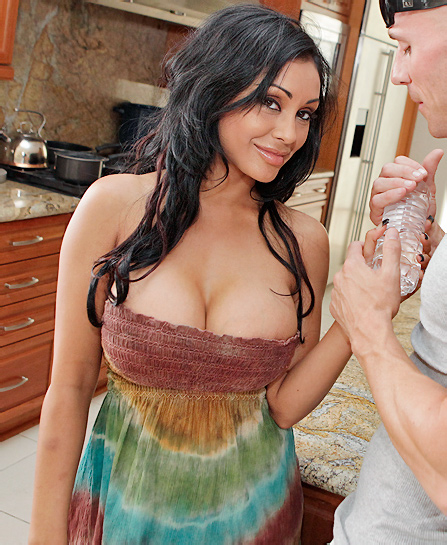 Real Wife Stories Priya Anjeli Rai HD Video Trailer
What people are saying about: Priya Anjeli Rai - Hoe's Before Bro's realwifestories episode
Comment #1
odal531 said: I don't know exactly why, but I believe that Priya Rai is quite possibly the most attractive woman on the planet! there, i said it! maybe in some far off universe or on some distant planet there is some woman that is better than her, but here? she is hands down, dicks up the most gorgeous thing I have laid my eyes on! keep doin yer thing ma, I love when u do what u do! God. she's amazing! and I thought Nina Mercedes was amazing, hell fuckin NO compared to Priya! Seriously Priya, I am in lust with you!!!!
Comment #2
BigL said: 10 out of 10! I was not a fan of hers, till this real wife stories scene, very well done, and I didn't know she squirted some much. This update, has all the elements, this type of series should have, and everyone played their parts fine. The energy was high, position changes, it never got boring. Nice update!
Comment #3
robertomalone said: Another great scene from the gorgeous Priya; she really does have one of the prettiest, cutest faces going, and a fabulous sexy bod (I really can't understand that she gets any negative comments at all - she's a princess and looks like a Bollywood film star). And she's quite a performer, too, mixing torrid passion with impish cheekiness. Johnny is as accomplished as ever, so all in all, a very rewarding scene.
Comment #4
ayprimo1 said: Two squirt scenes within a week of each other?!?! That's what I'm talking about! Keep it up Brazzers, would love to see more squirting from the other girls on the site that could (Angelina Valentine, Nadia Styles, Britney Stevens, etc.)
Comment #5
MissSnoogans said: If her hubby is going to diss her like that. Should of had her checking out Johnny from inside the house. Then pull her shades and throw him a wink when their outside. I didn't care much for the camera work at all. Too much focus was spent on her boobs. Priya could squirt at any minute and she did. I love how they started fucking though. She's about the only person I see bent completely over for doggy. The shoulder grab was pretty intense too. Great to see some sixty-nine thrown in every now and then. Splendid finish to the scene with the cowgirl variations and rocked it with a cradle. That was a fucking awesome facial that dripped to her boobs. Her squirts remind me of turning on a PUR water filter. Snoogans!
RealWifeStories Priya Anjeli Rai Picture Gallery