Real Wife Stories presents: Priya Rai fucking an old highschool grudge of her husbands
Scene Title: You're a pain in the back!
Storyline: Priya has been sexually frustrated for years now!Her husband hasn't been able to fuck her on account of his bad back!When Priya's craving to be fucked becomes to much to bare she calls over Keiran, the man responsible for giving her husband a bad back!Tune in for that story but back to Priya. She seduces Keiran and he couldn't resist!He fucked her so hard like she's been longing for. As for the husband, the pain in his back won't be going away anytime soon.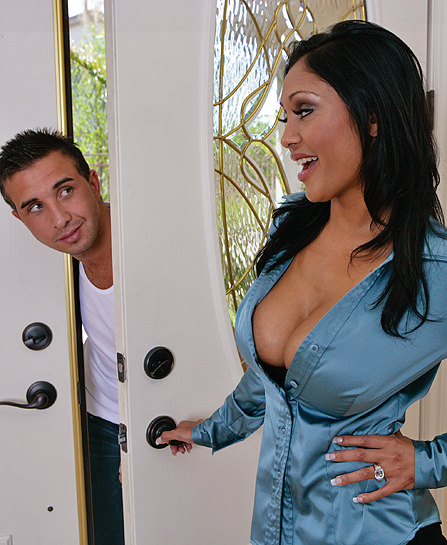 Real Wife Stories Priya Anjeli Rai HD Video Trailer
What people are saying about: Priya Anjeli Rai - You're a pain in the back! realwifestories episode
Comment #1
malone said: Oh, man! This is one of the funniest scenes on the real wife stories site, as well as being damn sexy. Priya Rai is the horny housewife (and boy, is she ever horny!) who just isn't getting enough cock action, because her husband has a bad back. So the desperate Priya phones Keiran Lee, who, as we all know, is not exactly lacking in the trouser snake department, to satisfy her needs. It turns out that Keiran is to blame for the husband's bad back in the first place. I won't give it all away, but there are some great comedy moments. Priya herself is superb; her chirpy 'High honey!' to her husband (who has just literally fallen in through the door in agony), followed by a guilty giggle, her face plastered in Keiran's juice, is comedy genius. Add to that, the sex is very hot; Keiran really goes to town, and after a typical comic start, becomes quite masterful and dominant, with the sex being quite rough. This is clearly what Priya needs, and she submits to it willingly. She is such a gorgeous babe, and looks stunning here in the stockings and heels. An absolutely terrific scene!
Comment #2
ppppppooi said: She looks great with a dick in her mouth but it is VERY DISAPPOINTING that no photos were taken of her making cross-eyed or silly faced photos of her looking at the hard dick. If those type of photos are not taken in the photo shoots then this site is going to start to suck like many of the others out there. Keep those silly-faced photos of girls staring at the dicks and also the camera while around a hard dick coming please!!
Comment #3
MBENCH said: love the sounds would fuck the shit out of her anyday no matter what noises she would make
Comment #4
wickerman1 said: This real wife stories scene was so funny!!! she's so hot and sexy,especially when she was dress up like a cheerleader,i would like see her like that in another scene!!!!
Comment #5
stugotts said: Priya is just straight up hot. No matter what noises she makes or whatever you guys complain about... I know all of us here would cut off a finger (or two) given the chance to tap that ass. Viva Priya!
RealWifeStories Priya Anjeli Rai Picture Gallery