Real Wife Stories presents: Back for some more action Rachel Starr fucks like she never did before
Scene Title: Birthday Gift
Storyline: Rachel was afraid her husband would forget her birthday. To her surprise he not only remembered, but also provided a gift: a big cock for her to fuck and enjoy while he sits and watches. She was so grateful she took every bit of it.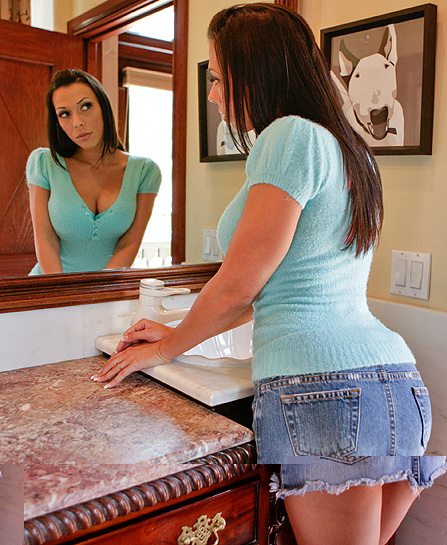 Real Wife Stories Rachel Starr HD Video Trailer
What people are saying about: Rachel Starr - Birthday Gift realwifestories episode
Comment #1
Ricman45 said: The divorce rate in this country would plummet if more wives would ride their husband's dicks the way Rachel Starr rides on top. Good gosh, the woman is a force of nature! What an ass!
Comment #2
surferchic said: I can't get enough of Rachel, what an ass. I couldn't stop playing with my self watching this scene. And I love Alec Knights cock,it is so big and perfect looking. The pov shot of Alec fucking Rachel from behind is so hot. More Alec and Rachel please. Gotta go....gonna watch it again.
Comment #3
Meineche said: Rachel Starr is fucking hot and she did a really good job in this one... definitely one of my favorite scenes. It deserves a 9:)
Comment #4
RawDawg2 said: I HAVENT EVEN SEEN THIS SCENE YET BUT IM DOWNLOADING IT AND IM A JERK OFF TO IT RIGHT AFTER CUZ RACHEL STARR HAS A FANTASTIC ASS AND I LIKE HER WHORISH ANTICS
Comment #5
nympph1 said: The best scene I've watched yet. Sure the premise was a bit fetched, and the pop wasn't at all buckets. But are you serious, what she put into that scene made every bit of it a, "reality." I'm giving the scene 9.5 and she deserves the 10.0
RealWifeStories Rachel Starr Picture Gallery