Real Wife Stories presents: Rhylee and Rhyse in a steaming menage a trois
Scene Title: Sisters Share Everything
Storyline: Rhyse has a very boring and unsatisfying sex life with her husband. She goes to see her step sister Rhylee and asks her for help. Rhylee proposes Rhyse to fuck her husband Alec, with the condition that she can be involved too. Alec never thought he would fuck both his wife and her step sister at the same time, but he sure enjoyed cummin' on their big tits and watching them swap his cum.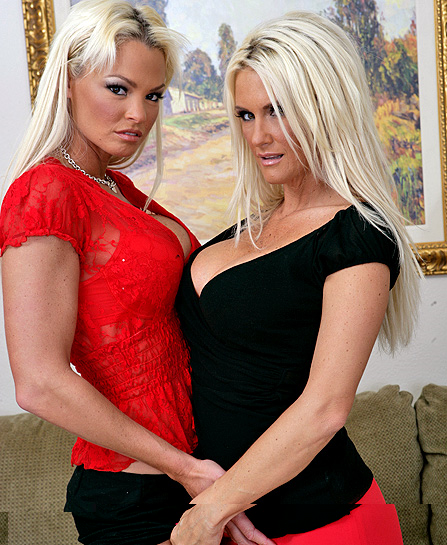 Real Wife Stories Rhyse Richards and Rhylee Richards HD Video Trailer
What people are saying about: Rhyse Richards and Rhylee Richards - Sisters Share Everything realwifestories episode
Comment #1
fernandobarca said: Rhylee's looks are definetly up there on any list, the fact that she does milf scenes just shows she's confident enough. She's hot and doesn't have the pornstar attitude. Rhyse is not a schoolgirl anymore but i'd definetly give her a run or two, i wish all the milfs in the biz would look like her.
Comment #2
robb201 said: I was surprised by this scene. I don't care much for either of the Richards sisters, however Rhylee's scenes are always worth watching. I was never able to watch Rhyse's scenes completely through because she was too fucking ugly in my opinion. However, in this scene she looked much younger (either she had some facial work done or you had a damn good make -up artist). Stil not a big fan of these girls but with the sister scenario and the surprisingly good looking face of Rhyse, this scene was much better than I expected. Rhylee has always had a pretty cute face, but too many freckles and moles for my taste. The sex wasn't great, but it's Alec Knight, so what do you expect. Overall, much better than I ever could have imagined. 7/10.
Comment #3
BiV_aka_funkdoc said: For all females booked to do a FFM scene, watch this and take notes. This was some scorching hot sex. Xailuvu is right - these 2 attacked each other's vaginas, and that's how it should be done in a FFM scene. I like the setup, but I wish they had to convince Alec a little more instead of diving right to it. I'm not sure which one I like better because they both do it for me in a different way; Rhyse is the one I wanna throw around the room, and Rhylee seems like the more delicate one but is super sexy when she's getting off. This here was the complete OPPOSITE of what I saw with Eva/Jordan - TOP-FLIGHT CAMERAWORK. We saw wider angles focusing on the girls and thier bodies. Great job guys. I actually think Alec was good for this role. Besides his weak $$ shot, he allowed the girls to get into each other more than if one of the other guys was cast. But in the future, I would like to see Keiran or Johnny cast with these 2. Please cast these to again A LOT more. ps - that shot where the camera panning away and it passes Alec's grin is one of the funniest things I've seen on here hahaha
Comment #4
katie11 said: THE RICHARDS STEP-SISTERS PUT IN A SCORCHING HOT SCENE. THE RATING CURRENTLY IS 9.16 AND ALEC FROM A VIEWERS STANDPOINT THE GIRLS MAKE IT A 9 STAR SCENE AND YOU GET A 0.16 FOR HAVING A BIG DICK (THAT'S ALL). AS EXPECTED ALEC'S CUMSHOT WAS FUCKING HORRIBLE AND HOW CAN A GUY CUM THAT LITTLE CONSIDER THE TWO SMOKIN HOT STEP-SISTER BLONDES HE WAS FUCKING. THE GIRLS HAD GREAT CHEMISTRY AND I HOPE WE SEE MORE FROM THESE TWO SOON!!! francisco5291 SUMMED IT UP NICELY AND I HOPE NEXT TIME WE SEE BETTER MALE TALENT (FOR THE LADIES PLEASE!!!!!!!!!!!!) THAT WILL FUCK THEM FAST, HARD, AND WILL DELIVER A DECENT LOAD. THE CUMSWAP IDEA WAS FUCKING AWESOME EXCEPT THERE WAS NO CUM TO SHARE. BRAZZERS STAFF, THANKS FOR LETTING THE RICHARDS STEP-SISTERS FUCK FOR US AND CAN WE HAVE A PART TWO TO THIS SCENE OR ADD PHOENIX M. TO THE MIX????????????
Comment #5
steve3de1 said: Both sisters are are damn goergeous, They must bring your studio on fire, they both have done some videos together I must say you I have all of them. I am all NAL fan but this is exception for these two.
RealWifeStories Rhyse Richards and Rhylee Richards Picture Gallery