Real Wife Stories presents: Mariah and Sarah get fucked hard while their husbands watch the game
Scene Title: Travelling Man
Storyline: Mariah Milano was fed up with her husband watching the game instead of helping her out. When the guests arrived, both Mariah and Sarah were so turned on by Jordanís class and sophistication; they decided that they had to fuck him. Jordan was resistant at first, but ended up fucking these two horny housewives while their husbands were too busy watching the game.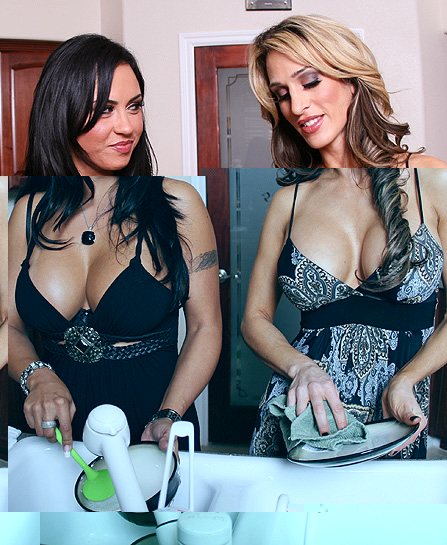 Real Wife Stories Sarah Jessie and Mariah Milano HD Video Trailer
What people are saying about: Sarah Jessie and Mariah Milano - Travelling Man realwifestories episode
Comment #1
funkdoc said: Is that the same Brazzers house we've all seen, but with a redesigned kitchen? These scenes are really dumb. Do you really expect em to believe these 2 clowns were so into the football game they didn't realize their wives are getting plowed 10 feet away? Come on. Would have been MUCH more believable if they fucked in another room. All that said, this was some smoking hot sex. Mariah hasn't looked better and totally fucked and sucked like champ. Did she go bigger with the boobs? They look awesome. I think Sarah Jessie looks good, I'd totally nail her, and she did a great job as well. Jordan is funny, I like is acting and keeping up with the part in the real wife stories scene. Was he standing on a phone book when he was fucking Mariah? haha
Comment #2
ockstone said: cool scene
Comment #3
eyeluvhorses2 said: I love Mariah Milano! Shes got that street thing about her... me being from NY, she just reminds me of the chicks from around the way.. Except she is fucking HOT TO DEATH! Those big nipples are such a turn on! PLEEEEEZE show more of this chick! Didnt see the whole scene yet, but anything with Mariah is a hit in my book. She knows how to get down for the camera! Now that other chick? Eh....
Comment #4
890 said: how come non of the fucking downloads work anymore????????
Comment #5
morbius2 said: (throws up) yuck, sarah jessie? this girl is so scary lookin I might have to leave Brazzers for good!
RealWifeStories Sarah Jessie and Mariah Milano Picture Gallery