Real Wife Stories presents: Shy and Shyla fucking eachothers husbands big hard cocks
Scene Title: Reunion Swapping
Storyline: Shy Love invited her best friend Shyla Styles and her husband over. They hadn't seen each other in a long time and had a lot to catch up. But when Shy caught Shyla's husband looking at her ass and Shyla caught Shy's husband looking at her breasts, the naughty housewives agreed to have a swap and enjoy the other's better half. Shy enjoyed getting fucked in the ass while watching her husband fucking Shyla.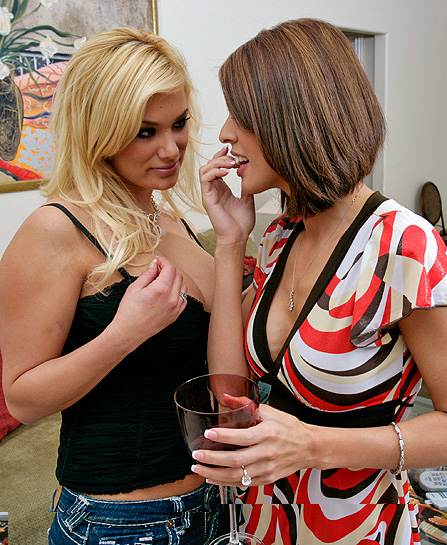 Real Wife Stories Shyla Stylez and Shy Love HD Video Trailer
What people are saying about: Shyla Stylez and Shy Love - Reunion Swapping realwifestories episode
Comment #1
drtrans said: great real wife stories scene, i just wish more girls were like shyla and still swallowed. So many hot girls do the subtle spit as he's coming in their mouth which is ok, but nothing is quite as hot as when the swallow the whole load.
Comment #2
ddnewman said: One thing I like about Shy Love is she always wears a wedding ring while playing the married MILF. Which to me hads to the whole realism of the scene.
Comment #3
thinkingman52 said: This is a great real wife stories scene. The best mix of sex and good dialogue I have seen in a while. For most scenes, the dialogue is okay and you fast-forward to the moment before the sex. This scene is different. You actually can believe that this was a reunion. Its hard to decide which lady-Shy Love or Shyla Styles is better. Each has a qualities that are hot. If I had to pick, Shy Love stood out because of her hot ass and her aggressive sexual nature.
Comment #4
houston4 said: where do the masterminds at brazzers find these clowns? I mean who is the turd with the white socks and the black dress shoes? I mean this guy looks like he is about as sharp as a butter knife.Insult to injury he is hung like a zit.Man, get your shit together people, there is no fucking way that this guy should be doing what he is doing, put a fucking broom in his hand and have him clean the studio or make him work as a gaffer or a lighting assistant, or a coffee boy but please get him the hell out of there.
Comment #5
funkdoc said: The "wife swapping" scenarios for this site seem to be the most fitting and believable for this site. This was okay, but not as good as Diamond Foxxx & Mikayla. The action was pretty intense, and the anal from Shy was good, even though I'm totally not feeling her short hair. Another top-notch scene from Shyla. Both dudes were okay. Haven't seen Jack Vegas in a while, it probably has something to do with his dick being limp everytime it comes out. Who told Seth to wear white socks with black shoes? Seems to go perfectly with his lisp.
RealWifeStories Shyla Stylez and Shy Love Picture Gallery