Real Wife Stories presents: Shyla Stylez fucking the biggest dick in the fire department
Scene Title: C'mon Baby Light my Fire!
Storyline: Shyla is sick and tired of her husband and his panzy ass ways. He is constantly trying to woo her with chocolates, flowers and sappy poems when all she wants is a real man who can fuck the living shit out of her. The breaking point is when he tries to make yet another romantic dinner and accidentally burns the meal, setting the fire alarm off. When the fireman shows up Shyla realizes that she can have the manly pounding she has always wanted.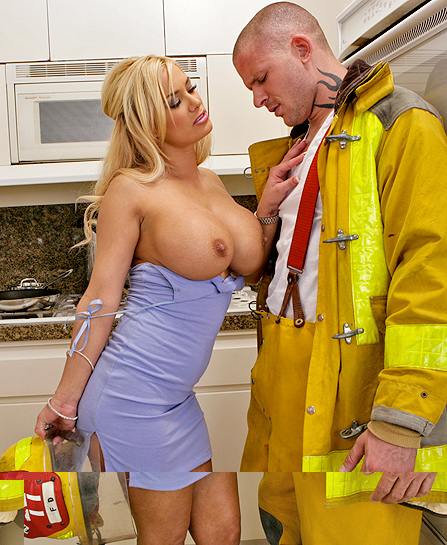 Real Wife Stories Shyla Stylez HD Video Trailer
What people are saying about: Shyla Stylez - C'mon Baby Light my Fire! realwifestories episode
Comment #1
mdimran said: shyla i really wanna fuck u ur the hottest one in bazzer's ur voice ur style of getting fucked makes my cock cuming again and again
Comment #2
MissSnoogans said: I can't believe how soft the hubby was. He took the cake of anyone playing hubby on RWS. How good does Shyla look? She's like fucking exquisite in this real wife stories scene. Good thing Scott was a fire fighter so he could put out the fire within. The relentless assault in those first two positions was marvelous. She went for her signature move with her hands behind her head as she put that pussy on him. I didn't make through the first round of cowgirl. So my legs were trembling when mounted back up again. She did that cum like Folgers. Mr Sensitive should call Dr Greenthumb instead of BomBay. Snoogans!
Comment #3
terripens2020 said: All i know is Shyla Is the Shit, Period and Brazzers need to go back up to our Northern borders and start bringing hot women down from Canada cause We got Pamela and now Shyla, we need more....ASAP.....
Comment #4
KUIsuTRA57 said: Like vintage wine Shyla Stylez is only better with age. I remember her early stints in porn where she was too thin, too unremarkable and, to be blunt, too ugly. But damn, look at her GO!!! While she can fit the role of the MILF, she is far from limited to that and I hope you guys continue to get the maximum mileage of this incredu
Comment #5
mcgjoe said: Shyla is a superstar who does it all. Men, women, threesomes, anal, dp, swallowing and she does it all with style and passion.
RealWifeStories Shyla Stylez Picture Gallery