Real Wife Stories presents: Carmella and Sienna fucking eachothers man big hard cocks
Scene Title: An Uninvited Guest
Storyline: Carmella and her husband Keiran have a pretty open relationship... Because Carmella banged her teacher at school today, she promises to make it up to Keiran and invite her friend Sienna over for a threesome. Little did they know Sienna was gonna bring Mikey with her to change the "menage a trois" into a classic orgy!!!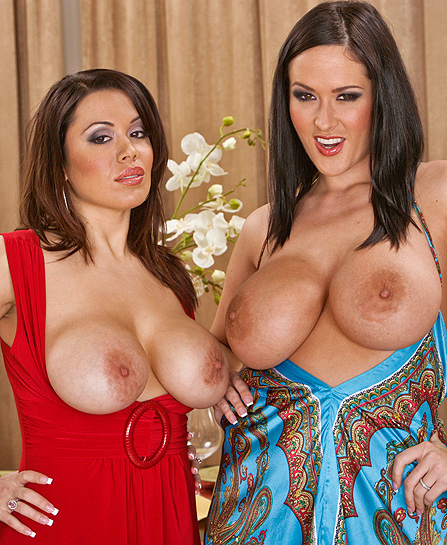 Real Wife Stories Sienna West and Carmella Bing HD Video Trailer
What people are saying about: Sienna West and Carmella Bing - An Uninvited Guest realwifestories episode
Comment #1
willi29 said: U guys who say that Carmella is fat r fuckin crazy. I bet u haven't had a women half as hot as she is right now!
Comment #2
PabloEscobar said: sienna and carmella. the hottest chicks ever! please more. dream team!
Comment #3
BiV_aka_funkdoc said: Wow a wife-swap, there's something new! lol. Good to see Butders back here, especially with Sienna cuz they have the ill chemistry since way back when Sienna West debuted here on BTIS...and when Sienna had the great red hair that made her stand out among all others ::sigh:: Carmella seems to add a couple of lbs with every scene, but damn do those titties look delicious. I was kinda bored overall, but the initial position where Sienna jumped on KL in reverse cowgirl was a nice change of pace, and there were some really nice camera angles with the most of the action.
Comment #4
Don_Tomas said: For tit lovers this real wife stories scene was the best. I am not complaining about the weight. I just concentrate on the tatas and the hot sex.
Comment #5
dieavirgin said: Gotta love those awkward moments after sex. That was a great swap scene. love the energy and everyone looked like they were into the scene. I did like the pairing better when it was Keiran and Carmella / Mickey and Sienna that seemed like the best chemistry. killer doggie and cowgirl. Check out Sienna adding something a little extra to her riding skills. Carmella was getting worked pretty good Kerian on the table and no girls nose went unfilled. I was kinda hoping Keiran would have a Roxx flashback but that would have just been a bonus.
RealWifeStories Sienna West and Carmella Bing Picture Gallery