Real Wife Stories presents: Fondu Couple turn out to be Fondu Fuckfest
Scene Title: A Cock Swapping Invitation
Storyline: Ahryan and Alan invite Tanya and Brad over for some "fondue". After eating and drinking some wine, both Tanya and Ahryan get very horny and agree on swapping husbands. The guys don't mind at all because they're both fuckin' hot and fuck each other's wife in the middle of the kitchen.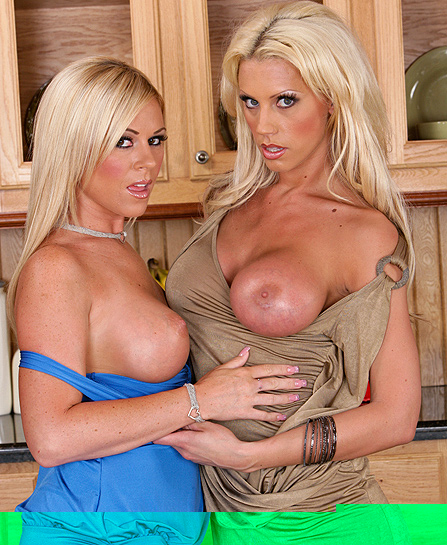 Real Wife Stories Tanya James and Ahryan Astyn HD Video Trailer
What people are saying about: Tanya James and Ahryan Astyn - A Cock Swapping Invitation realwifestories episode
Comment #1
robertomalone said: Ahryan and Tanya are two beautiful babes, and this is a very sexy wife swap story. The cum swapping kisses between the two girls at the end is beautiful and erotic
Comment #2
chance4471 said: tanya has got to be the best among the thoroughbreds of seriously hot chicks who got 'it' and flaunt it. her behavior cannot be taught. Here's to tanya...10
Comment #3
JOHNSC said: Great real wife stories scene! Hot action and nice combo with a hot body(Tanya) and a really sexy personality PLUS fantastic double FFs at end. Pls. more FFs!
Comment #4
funkdoc said: Honestly, I probably wouldn't have watched this if it weren't for Tanya. I think we're all lucky she chose porn over modelling because those legs and that body should be illegal. The story is definitely overdone at this point, at least mix it up with some swapping or something. I like Ahryan, I think we should see more of her. The 4 seconds of side-by-side cowgirl was ill. I remember that Brad Hardy cat from waaaaaay back in the day from one of the very 1st BTAW scenes with Vicki Valentino and Kara Nox. Where did you dig him up from? It wasn't like he did a bad job but it's been like 3 years since his last scene here, lol. Oh well, Tanya alone was worth it enough for me.
Comment #5
Lorelai said: This should of just been Tanya and Alan cuz I forgot the other two were even there, only remembered at the end when Aryhan and Tanya started kissing. Alan was solid and pretty hot- would be nice to see more of him on here. Tanya has one of the best bodies on here and always gives a good performance. I know this one was shot awhile ago so you need to bring more of her SOON.
RealWifeStories Tanya James and Ahryan Astyn Picture Gallery