Real Wife Stories presents: Carmen and Tanya swap eachothers man big hard cock
Scene Title: What's Ours Is Yours!
Storyline: Carmen and Tanya have two completely different relationships with their husbands. Carmen tends to fight with her bitter and stressed out hubby while Tanya spends most of her time fucking and having fun with her husband.Luckily Tanya and hubbie, Mikey are more than willing to share their sexual appetites with the sour couple!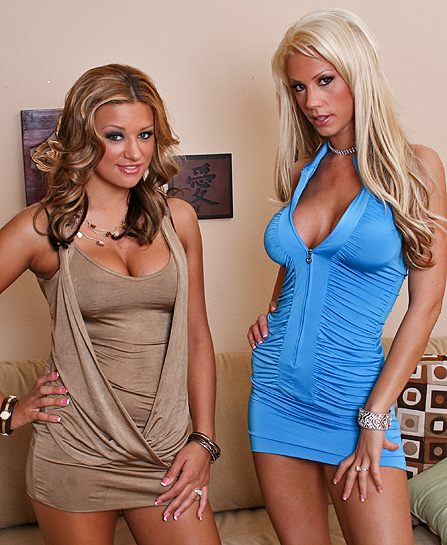 Real Wife Stories Tanya James and Carmen McCarthy HD Video Trailer
What people are saying about: Tanya James and Carmen McCarthy - What's Ours Is Yours! realwifestories episode
Comment #1
fawkface1 said: Tanya and Danny in this scene was non-existent since Mickey was pounding the hell out of Carmen. They should definitely have another Carmen and Mickey scene but no one else in it. Jeebus, Carmen screaming at the 32 minute mark blew my balls.
Comment #2
wolfal said: omg.... i think im going to watch this scene everyday. carmen mccarthy is amazing. where is she ? what other scenes has she done? Where else can i find her lookin this hot? holy fuckin shit. i want to meet that girl. she can SCREAM
Comment #3
rangerdick said: I sure love spontanuity especially when you come to welcome door and the woman in the sexy blue dress is so hot. I bet both men were hard all during their lunch and really couldn't wait to get down to the real action of the day. So True.
Comment #4
BigLRock19 said: Tanya is smokin in this one, Carmen looks good, but her character was weak, and the no undie thing, doesn't work for me, as far as the real wife stories scene goes, nice set up, poor camera work(only the switching between couples), the sex was on target, especially Tanya in doggy. Two issues though, one the SHOES, and second, Tanya's Bra, why did they stay on! Over all a good one.
Comment #5
stangodango said: Damn Mickey has a small dick but some enormous hanging balls. He was really working it out on Carmen because he had her a screaming something fearce! The other two were ok but Danny sounds gay just like Kieran and can't really get into him. However, this was an awesome scene!
RealWifeStories Tanya James and Carmen McCarthy Picture Gallery